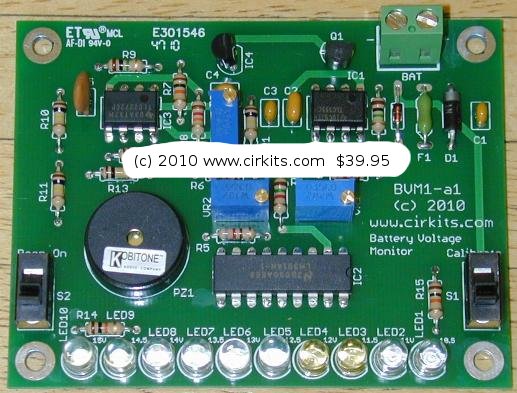 Photo of an assembled BVM1 kit
BVM1 - 12 Volt Battery Voltage Monitor Kit
The BVM1 kit can be used to monitor the voltage of a 12 Volt battery. It features ten ultra-bright LEDs in five vivid colors for quick battery voltage measurement. One of the LEDs will briefly blink on every 1.25 seconds, keeping average power consumption low. The display is readable from dark to full sunlight. A switch-controlled low voltage beeper is included, this provides a warning when the battery voltage drops below a user-set value.

The BVM1 is designed to operate in conjunction with the CirKits SCC3 solar charge controller, a 12V rechargeable battery and a photovoltaic (PV) panel. It will also work with 12V automotive, marine and RV power systems.

Controls include: Calibrate/Blink switch for setting the LED display to continuously-on or low-power blink mode, Beep On switch for enabling and disabling the low voltage beep function.

See the BVM1 specifications for details on the kit's capabilities.

The kit includes:
A high quality double sided, silk screened circuit board.
All of the parts required for building the board.
A schematic and wiring diagram.
Easy step-by-step assembly, alignment and usage instructions.
Power source and solder are not included with this kit.
---
Kit Prices and Shipping
BVM1 kit: $39.95
Discounts are available for orders of 10 or more kits.
U.S. addresses, First Class Mail shipping and handling: $5.00 per kit, add $1.00 each for additional kits.
U.S. addresses, Priority Mail shipping and handling: $10.00 per kit, add $2.00 each for additional kits.
Overseas, Canada and South/Central America addresses, Shipping and Handling: $14.00 for 1 kit, add $3.00 each for additional kits.
Send email for a quote on multiple kit types, please use the address at the bottom of this page.
Payment Methods
Credit cards (click the PayPal buttons below).
Mail a U.S. postal money order.
Mail a check made out to CirKits.com (U.S. customers only).
Wire transfers only accepted for orders over $500, $35 fee applies.
Sorry, NO COD.
Taxes (Colorado Residents)
Customers who live in Colorado should add $1.92 tax per kit to the total price of the merchandise.
Payment by PayPal / Credit Card
(Click on the PayPal buttons)
| | |
| --- | --- |
| | BVM1 U.S. Mail, First Class |
| | BVM1 U.S. Mail, Priority |
| | BVM1 U.S. Mail, First Class (Colorado Customers) |
| | BVM1 U.S. Mail, Priority (Colorado Customers) |
| | BVM1 Outside of U.S. / Overseas Orders |
Payment by Mail
If you would like to mail your payment, total the price of the kit or kits with the desired form of shipping and tax if you live in Colorado. Include the address to ship to and an email address if you would like shipping confirmation.

Send checks or postal money orders to:

CirKits.com
P.O. Box 3500
Boulder, CO  80307-3500
USA

Your order will be processed and mailed when the payment has been received.
More Information
---
Email:

This is a de-spammed email address, you need to type it in.